Welcome to Joets
High efficiency demands are required from a company. That is why it is important that the processes of a company matches with your company objectives, that these are realized in an effective way, and that as a result, your company will expand. Reduce costs with intelligence!
Joets advises on the structure of your internal organization. The right balance between the kind of work and the company objectives allows you to save expenses and cut down on the costs, in order to reinvest.
By means of interim- or project management and, if necessary, conducting the processes, your strategic position in the market is strengthened.
It is also possible to ask for advise on internal directed process analyses, logistics, time management, computer networks and hardware.
Joets uses, on request, your company means in such an effective manner, that these means are used most effectively, to realise maximum realisation.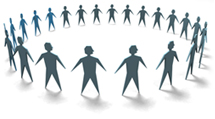 Joets is focuses on hospitals, medium sized service companies, the commercial sector, IT branches, financial institutes, like banking and insurance, the government, as well as on distribution companies.
Entrepreneurs behind Joets

P.C. van Weert
Phone: 073-6569300
E-mail: peter.vanweert@joets.nl


P.M. van Weert - Landwehr
Phone: 073-6569300
E-mail: patricia.vanweert@joets.nl